About us
Why Choose Us
Main page
Why Choose Us
You are awakened by insistent ringing of an alarm clock; you go to the kitchen and brew a cup of strong coffee of a rare brand - no wonder, you are a connoisseur of this beverage! During breakfast you watch morning news program squinting because of sun beams that shine through the curtains thoroughly selected by your wife, a décor aficionado. You go out from the lobby, sit in your car and find yourself in the refined world of luxury leather finishing and noble wood.
Ordinary things and events of your ordinary morning …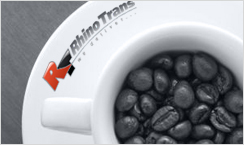 Every morning at 9:00 a.m. sharp RhinoTrans starts its work. Our task is to make your ordinary morning a reality. We deliver everything that is necessary for this to become true. A couple of tons of rare-brand coffee are shipped in containers from Africa. Trucks leave a small Italian town with a cargo of noble textile that will soon decorate someone's apartment like the curtains that hang in your kitchen. A ferry sails from Hamburg carrying brand new cars that will make happy a dozen of fans of comfort and speed like you.

It will not be a strong exaggeration to say that a major part of products and goods you use daily were brought to you owing to container shipping. One cannot even exclude that the tie you wear today found its way to you with the help of our forwarders. And now look around: cell phones, floor carpet, your business lunch … Virtually everyone on the globe is a customer of forwarding companies even though he/she does not have an idea about it.
We are really happy that our forwarding endeavors help making your life brighter and more comfortable.
We have been in the container shipping business for many years. We deliver daily tons of goods to the most remote parts on the globe. Rapid and customer-friendly service is guaranteed.

We are honest with our clients and ourselves. We do not make promises that are not realistic nor give void warranties. However, if we undertake a job, we do our best to perform it perfectly.
Favorable feedback and opinions of our customers and your positive experience in using our services is the most valuable assessment of our work.
We concentrate on people rather than on corporations. We are well aware that trust is of paramount importance in our business. We are also well aware that to earn it one needs significantly more than an expensive business suit. Trust should be gained daily by deeds: one should keep one's word and fulfill obligations.
We, in RhinoTrans, succeeded in creating a team of specialists who are really fond of their job; you can make sure of it just looking in their eyes.
We are in constant search for new solutions and ways to improvement. Mimicking activities is not our business. Someone may call it adventurism; we call it yearning to discoveries.
In the late 19th century, authoritative experts were unanimous is saying: "Airplane flights are not possible." Today airplanes are a popular type of affordable public transportation and virtually everyone at least once has seen clouds from above.
Sometime ago people could not even dream that they would be able to communicate at a distance of thousands miles. Nowadays we cannot even imagine comfortable life without phones that transmit our words within a fraction of a second to other continents, across any distance and many time zones.
In the mid 20th century no one supported Malcolm McLean, an ordinary truck driver, who proposed to use containers to ship goods. At that time the idea was considered unrealistic but today containers have become the least expensive and the most popular technology for shipping general cargo.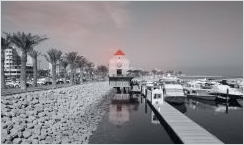 Our ideology is ongoing motion forward. We are sure that there is no ceiling for us; there are only skies above. The heights we can reach depend on us alone.
Our motto is: WE DELIVER. What specifically? It is up to you to decide whether you only obtain cargo or, maybe, something much more valuable as a bonus - positive experience of our services …